Mike Tyson fumbled for words after he was inducted at the International Boxing Hall of Fame. Tyson was honored for his achievement as a former heavyweight champion of the world while Sylvester Stallone was inducted to the Hall of Fame for his work with the Rocky movie series.
The overcast afternoon did not deter the hundreds of fans who turned out to see the two greats. Tyson tried to choke back tears by saying, "I have to be goofy about this, or I'll get emotional up here." He was also present to honor his late guardian, Cus D' Amato who served as his legal guardian after the death of Tyson's mother. D'Amato died just a year before Tyson became the youngest champion in the WBC heavyweight division after defeating Trevor Berbick at the age of 20.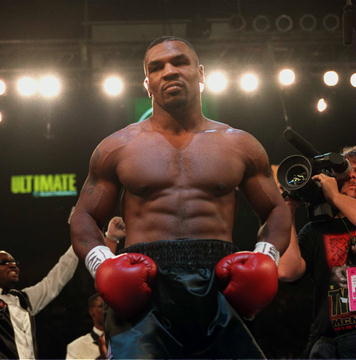 "All this stuff started when I met Cus, and Bobby Stewart (a social worker and boxing fan who introduced Tyson to D'Amato)," Tyson said in his speech. "I was in reform school because I was always robbing people." Tyson managed to say a few more lines from his speech, with some encouragement from the crowd, before finally saying, "Hey guys, I can't even finish this stuff. Thank you. Thank you."
"I've never pretended to be a boxer. I don't possess those skills," said Stallone when it was his turn at the podium. The action star had skipped the induction parade because of security concerns. "What I do think I have is an understanding of what goes on outside the ring. Outside the ring is sometimes maybe an even bigger struggle than what goes on inside the ring, and I was able to capture that. Then I believe that you can identify more with the fighter."
He closed his speech by shouting, "And Yo Adrian, I did It!" one of the famous lines in the movie. Stallone and Tyson were inducted along with Julio Cesar Chavez, Kostya Tszyu, Mexican fighter Ignacio Beristain, and referee Joe Cortez.